Gudetama, is an egg yolk, with a butt crack. It looked like someone has given up on the character. It has no fingers, no toes and no teeth. Yet, people can't get enough of it in Japan. You can find it on backpacks, cups, it even has it's own cafe!
However, it isn't the cute looks that drove it's insane popularity. It's main attraction is his personality,the laziness.
Gudetama came from a company called Sanrio, which also created Hello Kitty and Keroppi. It was created via a competition but Gudetama didn't end up on top.
However, when they released the merchandise based on Gudetama, it really took off, says Dave Marchi, the VP of Marketing and Brand Management of Sanrio.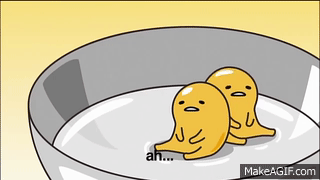 While Gudetama's main attraction is it's laziness, it is loved by the Japanese where as human beings, we can relate to it.
The name Gudetama was derived from the Japanese words, Gude (lazy) and Tama (egg).
Because of it's popularity, Gudetama has a short animation series aired on TBS, which as of 2016, has over hundreds of episodes.
Maybe this is what we need, a cute egg yolk to lighten up our life.